Our health providers deliver premium care for all ages and needs.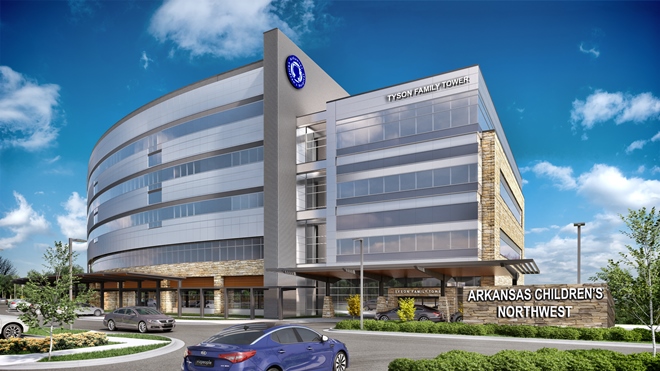 Critical Care
Springdale is home to the largest healthcare system in Northwest Arkansas. For more than 60 years, Northwest Health System's (NWHS) hospitals and medical staff have provided the facilities, technology and training necessary to meet the growing medical needs of the region. The 222-bed acute care facility has over 300 physicians on its medical staff representing a wide range of medical specialties and subspecialties.
Women's Health
One of the state's busiest birthing facilities is Northwest Medical Center – Willow Creek Women's Hospital. Unlike any other in Arkansas, the hospital offers a wide range of services just for women, all under the same roof, with 64 licensed beds. Willow Creek Women's Hospital's services include full obstetrics services, all-in-one labor and delivery, recovery, postpartum suites, lactation consultants, childbirth, parenting, wellness and nutrition education, and infertility diagnosis and treatment.
Pediatric Care
Arkansas Children's Hospital, one of the nation's most respected pediatric healthcare providers, is constructing a second campus to be located in Springdale's Ballpark District. Arkansas Children's Northwest, when open in early 2018, will provide families in our region close-to-home access to critical care they currently must travel three hours to receive. The hospital is located on a 37-acre campus at the intersection of S. 56th Street and Watkins Avenue, just east of I-49. The 225,000-square foot facility will include:
Specialty Care
Ozark Guidance
For more than 40 years, Ozark Guidance has helped tens of thousands of people — adults, children and families — live better lives through quality mental health services. Services range from counseling and educational programs to more intensive levels of care. When emergency care is needed, a toll-free emergency phone line can be accessed 24 hours a day, 7 days a week when situations become too difficult to handle alone. Ozark Guidance has a team of mental health professionals to diagnose and treat those with mental illnesses and disorders. This multi-disciplinary team includes a staff of psychiatrists who are experts in the management of medications.
Springdale Center for Health
The Springdale Center for Health is an outpatient clinic that offers high quality care. Conveniently located near the Har-Ber Meadows neighborhood in west Springdale, the outpatient clinic provides Digital Screening Mammography, Bone Density, Digital X-Ray, Ultrasound, and EKG imaging. The clinic also provides prenatal care, gynecology, infertility, urogynecology and preventative, acute and chronic care of the cardiac and vascular systems as well as urological disorders.
Community Clinic
Community Clinic is Northwest Arkansas' largest safety-net healthcare provider, offering comprehensive healthcare to underserved neighbors in Benton and Washington County. The clinic served over 25,000 patients last year with half of those patients being children. As a Community Health Center, patients pay for services on an income-based sliding fee discount based on their household size and income. Community Clinic offers affordable, quality primary and preventive care in order to build a stronger and healthier community for all. Services include family, pediatric, prenatal and dental services. A bi-lingual staff helps enroll patients in ARKids 1st and Medicaid, ensuring that everyone in the community has access to the healthcare they deserve.
Hope Cancer Resources
The mission of Hope Cancer Resources is to provide compassionate, professional cancer support and education to the Northwest Arkansas region. Its services allow cancer patients to have access to support services they need with a focus on improving quality of life and lowering the incidence of cancer in Northwest Arkansas. Hope Cancer Resources employs a highly-professional staff which includes a team of licensed oncology social workers, a Spanish interpreter, and certified health education specialists. A transportation service is provided to take patients to every cancer treatment as needed as well as education to help a patient during and after their treatment. Financial assistance is also provided for prescription medications, nutritional supplements, gas cards, as well as everyday living expenses to alleviate some of the financial stress a patient and their family may face.
Senior Needs
Schmieding Center
Schmieding Center for Senior Health and Education provides adults in the second half of life with the personalized education, services, and health care that helps them experience healthy aging and improves their quality of life. The Center provides comprehensive patient healthcare and coordination of services by an interdisciplinary team of professionals specializing in the care of older adults. The Center offers a wide range of educational programs and consultation services related to home care and caregiving, addresses older adult issues in the community, and provides continuing education for healthcare professionals and students.
Circle of Life Hospice
Circle of Life Hospice is a regional, non-profit hospice organization, focused exclusively on providing compassionate end-of-life care and bereavement support for Northwest Arkansas.
Hospice care is a team-oriented approach to expert end-of-life medical care, pain management and emotional and spiritual support tailored directly to the individual patient's needs and wishes. Circle of Life serves patients in their own homes, at nursing and assisted living facilities, and in their two inpatient hospice homes: The Earlene Howard Hospice Home in Springdale and the Circle of Life Hospice Home at Legacy Village in Bentonville.