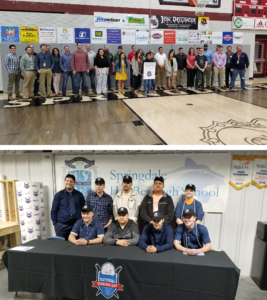 Graduating seniors in Springdale are getting a jump start on careers and college.
A total of 25 students from Springdale High and Har-Ber High took part in special workforce signing day ceremonies this week. This is the first year Springdale Schools have hosted the ceremonies celebrating achievements in career and technical education.
Students from Har-Ber committed to pursuing careers as HVAC technicians, plumbers and electricians at Kimbel Mechanical Systems, Marrs Electric and other companies. The event at Har-Ber was one of just two in the state sponsored by Klein Tools and SkillsUSA, a group that works to grow and empower the nation's skilled workforce.
Sixteen seniors at Springdale High announced they're staring careers in fields ranging from healthcare to IT. The students signed with employers including Tyson Foods, Walmart, Kimbel Mechanical Systems, The Northwest Arkansas Naturals, Ozark Media, Stroope Orthodontics, The After School Program, Hill Electric and Field Agent.
Five seniors at the Don Tyson School of Innovation will graduate with both a high school diploma and their associate degree. The school is recognizing their hard work with a special luncheon. The School of Innovation's first senior class graduates this month with a combined 978 college hours.