Chamber members went back to school this week to help students plan for the future.
Eight companies representing the construction, retail, healthcare and manufacturing industries volunteered to talk to students at Lakeside Junior High. They spoke about work ethic, professionalism, future careers, and how classroom lessons apply to the real world. Students used the Chamber's AIM career guide to research the companies and prepare for the guest speakers. More companies are scheduled to visit the class next week.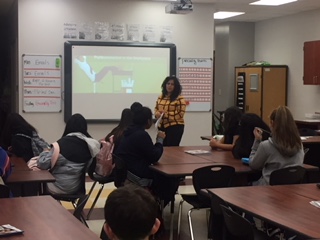 These classroom visits are an important part of the Chamber's workforce development efforts. For employers, it's an opportunity to get more young people interested in their field and help build a pipeline of skilled employees. For students, it opens their eyes to future careers they may not have known existed.
The Chamber works with our schools to organize these visits. Currently, speakers are being scheduled at the Don Tyson School of Innovation and Har-Ber High, and new requests are coming in each week. If your company would like to get involved, contact the Chamber at 479-872-2222, or email brooke@chamber.springdale.com.